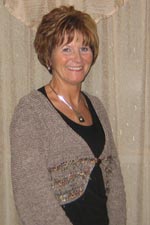 Welcome, my name is Sandee Cherry, I am the owner of Sandee's Kwik Knit and author of 52 machine knitting books, patterns and videos which you will find on this website.  I have been involved in the knitting machine industry for the past 41 years designing garments and teaching seminars throughout the country.  In a devastating fire a number of years ago we lost the business.   With the calls and prayers from many of you I decided to reprint all of the books to make them available again.
If you aren't familiar with my books and videos, they are written/produced with the beginner in mind but the advanced knitter will also find the garments and techniques fun and easy to do.   The books can be used on any basic standard, bulky or mid gauge knitting machine using many different types of yarn. With sizes ranging from newborn to women's 54 and men's size 50, this will allow you to knit something special for anyone! In my books you will find henleys, shrugs, wrap sweaters, cardigans, coats, hats & scarves, pants, skirts, socks, sweatshirt inserts, tank tops, tote bags, tunics, Christmas socks, baby & children garments, afghans, cut 'n sew, short rowing in color, hoods & pockets, drop shoulder sweaters, set-in sleeve sweaters, bulky garments, gauge hints, techniques, men & boys sweaters, vests, aprons, golf club covers, mittens, cover-up, nightshirt, Christmas tree skirt and angel. On the CD/Videos you will learn garter bar techniques, and charting using the magic formula for hand and machine knitters.
I know you will find the books and videos easy to use and I hope they will open the door to a new knitting experience for you. We commonly refer to machine knitting as an addiction, because once you start you won't want to stop! I hope you will be as addicted to this wonderful fulfilling hobby as many of us throughout the world have been for years!
Thanks so much for all of the wonderful notes and continued support of my Books, Videos and Seminar Classes. Without all of you there would be no reason for me to write!
Love to all -- Sandee
---