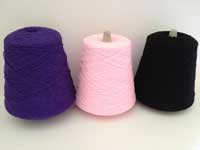 Following, you will find a list of yarns with tensions that Sandee has used on many of her garments.  This is only a guideline, you may have to go up or down a number depending on your machine.  Some of the yarns are no longer being manufactured but many of you still have them and may need the information. 
You will notice on the cottons Sandee knits them at a loose tension, then will wash and dry the swatch so the cotton will shrink and loft, then steam.  Make sure you treat the garment the same as you treated your swatch.
If using your garter carriage for ribbing, Sandee usually goes down 2 full numbers tighter than the main bed garment tension for ribbing.
Standard Gauge Knitting Machine Yarn Tensions 
| | | | |
| --- | --- | --- | --- |
| Yarn | Main Bed Tension | Ribber Tension | Slide Lever |
| | | | |
| Andino | 6 | 3/2 | | |
| Artistic | 4 | 0/0 | | |
| Astracryl | 7 | 2/2 | | |
| Bramwell Sable Crepe | 6 | 1/1 | | |
| CanCun | 8 | 3/3 | | |
| Carioca | 8 | 2/1 | | |
| Chenille (Rayon with serger thread | 8 | 4/3 | | |
| Chic | 4 | 0/0 | || |
| Conshohocken | 9 | 3/2 | | |
| Designer 727 | 5 | 0/0 | | |
| Diamante | 6 | 0/0 | | |
| Dove | 6 | 0/0 | | |
| Estilo | 4 | 0/0 | || |
| Estilo (double strand) | 8 | 2/2 | | |
| Four Seasons | 6 | 0/0 | | |
| Infanta (double stand) | 7 | 2/2 | | |
| Microtamm | 9 | 4/4 | | |
| Mohair (woven) | 9 | 7/7 | | |
| Natural | 8 | 2/2 | | |
| Natureza | 6 | 0/0 | 1 |
| Panache | 7 | 0/0 | | |
| Panama | 7 | 1/0 | | |
| Perla | 4 | 1/1 | | |
| Perla (double strand) | 9 | 2/2.2 | | |
| Piropo | 9 | 3/3 | | |
| Rayito | 8 | 3/2 | | |
| Serenaide | 8 | 3/2 | | |
| Shetland | 6 | 0/0 | | |
| Softy & Frosty | 4 | 0/0 | | |
| String | 8 | 3/2 | | |
| Subtle Shades | 8 | 0/0 | | |
| Tepeyac | 6 | 0/0 | | |
| Trenzi | 6 | 2/2 | | |
| Trenzado | 7 | 2/2 | | |
| Venesian | 4 | 0/0 | | |
Bulky Knitting Machine Yarn Tensions 
| | | | |
| --- | --- | --- | --- |
| Yarn | Main Bed Tension | Ribber Tension | Slide Lever |
| | | | |
| Andino (double strand) | 5 | 0/0 | || |
| Bulky Tamm | 5 | 0/0 | | |
| CanCun (double strand) | 6 | 0/0 | | |
| Carioca (double strand) | 5 | 0/0 | || |
| Carioca/Naturel | 6 | 1/0 | | |
| Conshohocken (double strand) | 7 | 0/0 | | |
| Diamante (double strand) | 3 | 0/* | || |
| Passy | 6 | 0/0 | | |
| String (double strand) | 6 | 0/0 | | |
| Subtle Shades (double strand) | 5 | 0/0 | | |
| Tepeyac (double strand) | 4 | 0/* | | |
---