Casually Chic Maxi
Cardi or Vest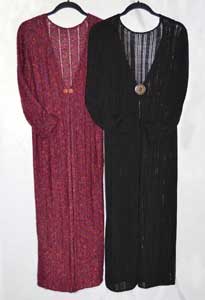 (Book 49) Casually Chic Maxi Cardi or Vest - Drape this ultra-chic Cardi or Vest over everything from shorts to jeans, skirts, and more… Knit in mock or thread lace, they are perfect over a swimsuit or great for any season to wear during the day or evening.
•Beginner to Advanced Knitter
•Any Brand of Standard Gauge Knitting Machine
•Juniors' & Women's 32-54
Henleys
for All Seasons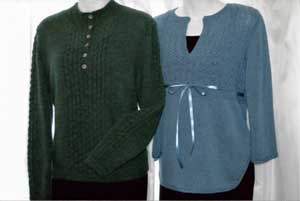 (Book 50) Henleys For All Seasons - You will love the many hints and techniques plus you can pick from three set-in sleeve lengths, shirttail, lattice, mock turtleneck and more... The mock turtleneck will be a favorite for winter, the lattice edge for summer and the shirttail for both.
•Beginner to Advanced Knitter
•Any Brand of Standard Gauge Knitting Machine
•Juniors' & Women's 32-54