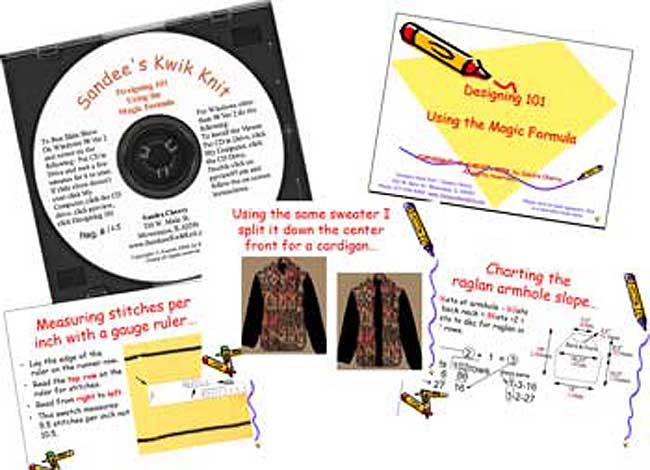 (CD #41)
CD - Designing 101 Using the Magic Formula
This narrated Computer CD has 108 slides that will teach you how to chart garments using the Magic Formula, necklines, set-in sleeves, shoulder shaping, re-spacing buttonholes, increases and decreases, alter written patterns, how to change a hand knit pattern to machine knit, blocking knits, and more…. It can be used for designing any knit garment.  If you have a pencil, paper, a tape measure, and a little bit of time you can chart anything you want to knit.  This CD is a must have for any machine knitting or hand knit library!
•Windows 95 thru all Newer Versions
•Beginner to Advanced Knitter
•Any Brand or Gauge Knitting Machine
---
Magic Formula Blank Schematics for Hand Knitting and Machine Knitting.
Click Below to Print the Schematic's to Use With Designing 101 Using the Magic Formula.
Set-In Sleeve Front and Back Worksheet Schematic • Set-In Sleeve Worksheet Schematic